Idaho Stump Removal Business:
This post is for anyone who has thought about starting a Stump Removal business. If you are looking for stump removal services in Boise ID or land clearing services feel free to contact us for a free estimate. We serve Residential and Commercial clients in SW Idaho & NE Oregon.
I, Jack Walker, started packing saw gas for my Grandpa when I was about 8 years old and am a 5th generation logger. In my teens he told me that the only loggers left when I grow up will be the ones with the biggest machines and he was right. I will never forget this conversation because it made me think about what direction I wanted to go when I grew up.
At 22 I started climbing and pruning trees. By 24 I started my own tree care business, at 27 I became an ISA certified arborist and in 2015 I sold my tree care business to my younger brother.
I was ready to semi-retire and stay on the ground. Thus, I decided to keep my stump grinder and start a Boise stump removal business. It has since grown into a full land management business and I get to work with my son Trent. Together we grind stumps, clear lots, blow snow, grade for driveways, RV pads and more. If you have a lot or large acreage you need prepped for you next project, we are here to help!
Stump Removal Business Tips:
So let's talk about the equipment, cost, insurances, licensing, maintenance it takes to run a stump removal business. Hopefully some of this information will help you make a more informed decision and if it does please leave a comment or add to this information to help others succeed in business. By the way, I've helped several people start successful stump grinding and removal businesses as well as full tree care services across the nation, so reach out with questions and I'll do my best to answer. I do have a full step-by-step plan with mentoring available as well.
Stump removal business start up costs are much less than offering a complete tree service but before you go out and buy a huge machine & trailer to haul it, be sure you know your market.
First and foremost you should do some market research. How many stump grinding businesses are in you area? How busy are they? What machines do they use? What do they charge? Are they a full service tree care company?
TIP: Don't just look at stump grinding specifically. Most tree care companies offer stump grinding so you have to count them as well. The tree care industry can be extremely lucrative but the risk is also very high. Climbing and removing trees in residential areas is very dangerous, equipment is expensive, maintaining equipment is also costly and most of all, workers comp can kill you. Another reason why we chose to specialize in stump grinding; no need for employees. This keeps your overhead down and increases your ability to remain competitive.
Once you have these questions answered it's time to think about equipment and licensing your stump grinding business. Some questions you will need to answer will be…
What grinder is best to start with? Do you need a trailer, truck, tools and if so, what will that cost you? What capital is needed to BE in the stump grinding business? What licenses are required in your state? What's the cost of licensing, insuring, bonding your business? How much will it cost to insure your equipment?
When you look at this photo you will see that it will even tackle huge uprooted stumps. We had a contractor call and ask us to come grind this behemoth because it would not fit in his dump truck. It took Chewy, yes we name our stump grinders, about 90 minutes from start to finish to grind a 9′ wide, 7′ tall stump/root wad. Pretty impressive.
We quickly realized that we needed a more powerful grinder for the Boise ID stump grinding market. The largest stump we've ground thus far was 10'8″ with roots that spanned another 3′ out.
When we sold our tree care business we kept the stump grinder and now have 3 grinders to attack any size stump, anywhere! Our SC30TX Stump Cutter is perfect for those tight spaces near fences, foundations or tight squeezes. The SC70TX Stump Cutter is a beast and demolishes the largest stumps in minutes and our specialty, portable stump grinder takes care of those stumps up on terraces, between buildings or even on the edge of the river. All 3 fit through a 36″ gate and turn any stump into excellent mulch.
Stump Grinder Equipment Options:
There are so many makes, models, sizes of stump grinders. We suggest keeping overhead low and expanding your equipment as your business grows. If you buy used just be very careful and have a mechanic go through EVERYTHING to make sure it's not in need of major/costly repairs or full of rust.
If all you do is grind stumps then it is important to have the professional equipment needed to provide great service at a competitive price and this means having the right grinder or grinders that will not break down and leave you stranded.
So I'll share some insight that may help you. If I could go back in time, I would have chosen to get a track mounted or 4 wheel drive stump grinder. At the time we lived in a much drier, flat place. We now live in the Pacific NW, where it rains, the terrain is rugged and Brush Bandit and Vermeer are much more prominent out West, Carlton seams to be more common on the East coast. There's Brush Bandit, Vermeer, Carlton, Rayco and several more brands to choose from.
Our SP4012 is a mid sized stump grinder and runs great. Now that we changed out the original cutter wheel for an Alpine Rhino Wheel, it grinds through stumps like butter and we've just had a few times where 4 wheel drive or tracks would have been handy.
TIP: If you go with a smaller stump grinder and want to increase it's speed, ease of grinding, lower the cost of replacing teeth etc. then change out the cutter wheel for an Alpine Rhino Wheel. I just added this wheel to my 35hp Carlton and I swear it cuts like butter and has the power of a 44hp machine now! That wheel seriously upped our production, cut down on teeth cost and wear and tear on Chewy. I think every stump grinder should come standard with an Alpine Rhino wheel.
We upgraded to a Brush Bandit 2550 and this cut our grind time in half and productivity doubled. Horse power, track mounted, remote operated, improved cutter wheels, teeth, hydraulics etc all made a huge difference.
Stump Grinding Business Begins:
So you've answered all the pertinent question about equipment, costs, licenses etc. and you have a business…now what?
TELL EVERYONE about it! 30 years ago when I started my first tree care company, my wife and I met with a business planner. I will never forget his wisdom. He said, every business must have 3 legs. 1. A product or service. 2. Marketing for that product or service. 3. Finances to keep growing.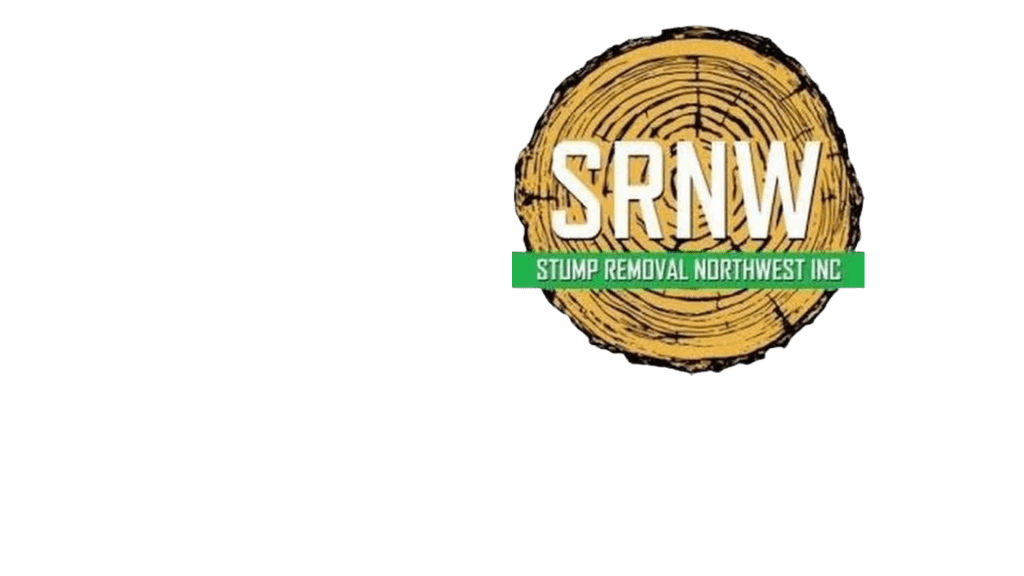 Put your logo and contact info on your vehicle so you can write it off as a business expense and get some publicity as you drive around town. We covered all Carlton logos on our grinders with our own logo. No need to give them the marketing.
Who's keeping track of the finances? Owning a business entails bookkeeping, money management and re-investing in your business so it can grow. How much are you going to charge and how to calculate cost to grind stumps? I have always handled to service side and been the face of the company and my wife handles the marketing and bookkeeping. Together we plan for future growth and make decisions as to what needs, wants and desires should be focussed on.
Marketing Your Stump Removal Business:
Here are some ideas we've successfully used. Craigslist ads can be great if you manage them and update them daily to stay on top of page. They are usually free and can get your business out there. With Stump grinding, people can call you, tell you diameter of the stump and how easy or difficult it is to access and you can give them a round about estimate over the phone.
TIP: ALWAYS have them text you a photo of the stump and the gate or area you will have to access it. You will be amazed at some of the places you will have to get your machines and when it's tough to get to, charge extra! Another thing to think about is ground type? Is it really rocky where you live? Is the soil really wet and clay? If so, these things will slow production and rocks will dull your teeth FAST and replacing teeth is expensive.
When I give an estimate over the phone I always make sure they understand that it is just an estimate and when I get there to look at the stump the price may change according to size, access, etc. But usually the price is close, the contract is written and signed and the stump is ground right then and there if I'm not too busy.
I spend most of my Mondays and Tuesdays bidding and Wed – Sat grinding stumps, removing hardwoods and cutting brush.
So here are a few more tips I have learned along the way.
Nothing will help your business grow more than YOU. Wrap your mind around knocking on doors. Your smiling face may get some rejection but I've built my business on door to door sales and word of mouth referrals for 24 years. Eventually the momentum takes over and there is no need but I still look forward to knocking a door here and there.
Being out in the community, joining the chamber of commerce, going to city meetings, networking with tree care businesses that do not have a stump grinder, networking with local home builders, landscapers, property management companies and providing outstanding service with a smile so your clients recommend you. Always be promoting is the key. Hand out some company swag. People love hats & T-shirts and it's an inexpensive way to get out there.
Word of mouth is the best marketing for your stump grinding business but as you build a reputation be sure to leverage social media, yelp, google business, to grow awareness and get work.
We've found that our Google business listing for Stump Removal has been helpful. Word of mouth is our best form of advertising but in a populated and competitive space, online reviews make a difference.
Be sure to register your business with google and get on google maps for local searches. That way when someone searched for stump removal service in your area you business will show up google maps. The verification process can be a pain but it's worth going through. Get reviews too. We all make decisions on new purchases by reading reviews if we aren't already loyal customers.
Customer Service Is Key:
One of the biggest differences I've encountered with our business compared to others is our customer service. We go above and beyond to make sure our customers are happy. I stand by my work, and do my best to be thorough but if there is ever a missed root or piece of stump all the customer has to do is call and I will go back.
If I underbid a job, I stick by my estimate and help clients pick proper trees to plant. Whenever possible I make sure to communicate face to face with clients. We live in a digital world and even though we can leverage it, people still want to know you know what you are doing and they appreciate you taking the time with them.
When you take the time, they will make the time to give you a great review!
Final Tip – Invest In Your Stump Removal Business:
It takes money to make money. So as your business starts making money be sure to re-invest it by taking care of your equipment. If there is a tool that can help you work faster, better and more economically, then invest in it. I spent 2 years hearing about the Alpine Rhino wheel from other stump grinding friends, watching videos, reviewing the product etc before I pulled the trigger and I wish I would have just spent the money as soon as I heard about it.
If you've read this long post, you've proven you have tenacity and desire. If you are looking for a stump grinding service in Meridian ID or Treasure Valley areas, we look forward to hearing from you.
SRNW: Boise Idaho Land Clearing, Excavation, Stump Grinding Service Sine 1998.
Stump Removal NW is fully licensed, bonded & insured in Idaho & Oregon.

Stump Removal NW gets utility locates when necessary. Safety is paramount.

Stump Removal NW will taylor every job to fit our clients budget and needs. Just check out our Idaho excavation services.

Stump Removal NW grinds to a depth of 12-15″ (baring any rock or ledge) & chases roots for complete removal.
Stump Removal NW can haul away chips and bring fresh topsoil to leave the area pristine for extra charge.
Stump Removal NW land clearing service can reclaim your overgrown ground from anything; blackberries, brush, trees, weeds, etc.
Stump Removal NW also has a network of professional tree service partners and landscapers so all of your outdoor needs are met.