Stump Grinding Cost Per Inch:
We provide stump grinding to Boise ID and surrounding areas so feel free to call for a custom quote. If you are not in the area the calculation for the cost of stump grinding per inch varies by company but all you need is a measuring tape and calculator to figure out a close stump grinding cost.
To get a ball park figure for the cost to grind your stump, measure the widest point of the stump at the ground, multiply this number by 3.14 to get total area and then multiply that number by $3 per inch for a reputable, licensed, bonded and insured stump grinding service.
You can always call your local stump removal business and get a free estimate too! If you are in the Treasure Valley, Boise ID and want a free estimate, just give Jack a call.
Some stump grinding services may charge by diameter, time and materials and they may add extra costs for chasing roots or grinding deep below ground surface. At SRNW charge by the inch of the stump and grinding/chasing roots up to 24″ around the stump is included. We also grind 12-15″ below surface and give 1 free call back should a root or piece of stump get missed. The root system can be large and when ground can save you from having to dig them out later so make sure to ask your stump grinding service if chasing all the roots is included in the estimate.
Stump Removal Northwest: Premiere Boise Stump Removal Service Since 1998
Stump Removal Northwest
Always Free Estimates
Licensed, Bonded, Insured In ID & OR
Quick Response
Locally Owned & Operated
We schedule all utility locates
Senior Discounts
Discounts for multiple stumps
60+ 5 Star Reviews
Should something get missed, every customer gets 1 free callback!
We have the professional equipment and experience to completely grind stumps up to 15″ below surface, chase roots and access hard to reach places where others can't. We are fully licensed, insured and bonded for your protection.
When considering whether to hire a professional stump grinder service or rent a machine, we ALWAYS recommend hiring. Why?
Most rental machines are too small to grind even medium size stumps completely, they are no maintained with sharp teeth and people do not know how to use them properly and can get hurt. Renting a machine can be more expensive then hiring a pro.
Stump Grinding Cost & Root Chasing
We do our best to make sure the entire stump is ground before leaving the site. Our stump grinding services include all utility locates to ensure safety and we will grind roots if you want us to. Chasing roots will tear up your lawn but also ensures no water sprouts or future heaving that you must mow around or deal with later. You can see in the picture how we chase roots to remove entire system. On rare occasions the mulch will cover some of the stump and we always come back to grind out what is missed, at no charge, so you don't have to worry about that with us.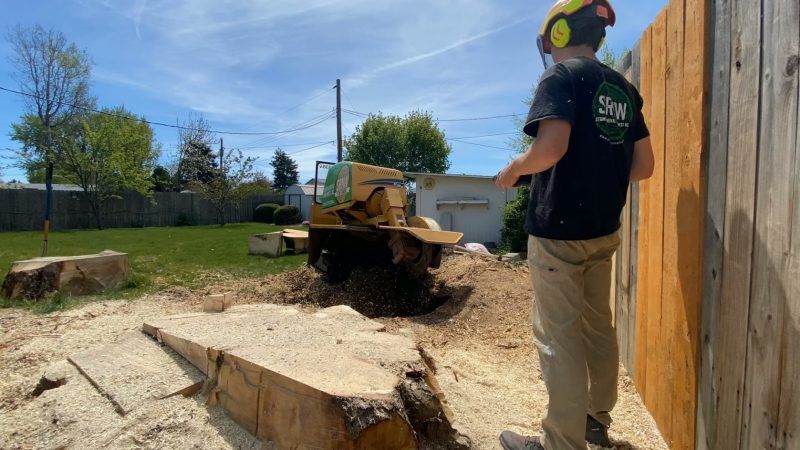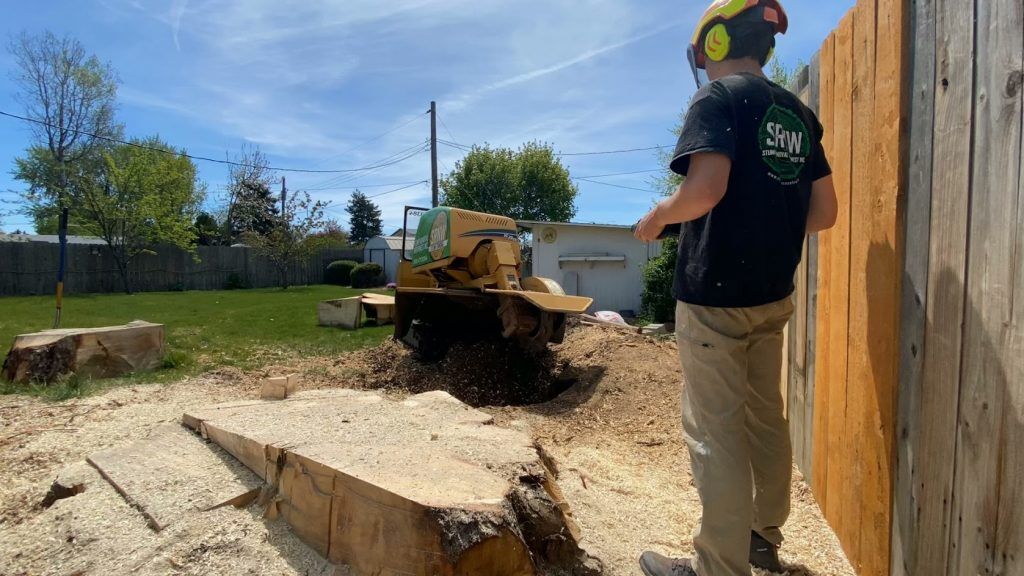 Stump Removal Northwest charges $3 per inch depending on access, size of project, terrain, roots, etc. and can usually give a discount for grinding more than one stump depending on conditions like the location of the stumps, how easy they are to access, etc. All of these things can make the stump grinding cost per inch vary and that is why we always give no obligation, free estimates. As 2022 stump grinding costs may vary it is always best to just call your local stump grinding business and compare quotes. Renting a stump grinder seldom ends up costing less and rarely offers proper equipment to fully remove a stump, not to mention the beating an underpowered, dull toothed machine will give the operator.
2022 Stump Grinding Cost Per Inch Calculations
The way we calculate how much it costs per inch to grind a stump is to take a diameter measurement at the widest part of the stump. If the stump flairs out at the ground, we measure from side to side to include the flair diameter. See photo above. The stump in this photo is 33″ at ground so we use this in our formula to calculate the how much it costs to grind the stump in 2022. We chase/grind all roots within 2′ of stump. If they are further out than 2′ there will be a small extra fee for grinding.
The stump grindings make excellent mulch but now and then clients want it removed. We provide this service at a extra fee.
Should there be some tree trunk that needs cut off we rarely charge extra but depending on circumstances, there may be a small charge to finish cutting to ground.
We have a $190 minimum charge & offer veteran, first responders and senior citizen discounts. We always give free estimates and if you have downed tree trunks, wood debris, logs, blackberries or brush you also need to get rid of, give us a call and we will come out and give you an estimate!
Stump Removal Northwest serves Boise ID, Treasure Valley areas and NE Oregon. Want to know the stump grinding cost per inch for your tree stump removal in 2022? Give us a call and we will give you a free Boise stump grinding estimate!