Stump Removal Service Boise & Beyond
SRNW: Treasure Valleys local Stump Removal Service. Family owned and operated since 1998 by Jack, Dani & Trent Walker. Serving Ada, Canyon, Gem, Boise, Valley & Elmore Counties.
25+ yrs experience

30hp & 70 hp Commercial Stump Grinders

Grind Stumps & Roots 12-15″ Below Ground Surface

60+ 5 Star Reviews

We Schedule All Utility Locates Free Of Charge

ID RCE55564, OR 223548 Licensed, Bonded, Insured

Father/Son Owned & Operated

Ask About Our Complete Tree Stump Removal Guarantee
Boise Stump Removal Service Pros
No matter the tree stump size or location we can remove it with the help of our specialized equipment. We have 2 commercial stump grinders that fit through 36″ gates. We grind 12-15″ below grade, get all utility locates, and chase roots to ensure complete stump removal. We also rake and blow the work site for a clean, finished look. In time, the mulch used to backfill will firmly fill in the spot where there once was a stump. Should we miss something, you get 1 free call back to ensure 100% satisfaction. Have a tree or stump that needs removed? Get a free estimate!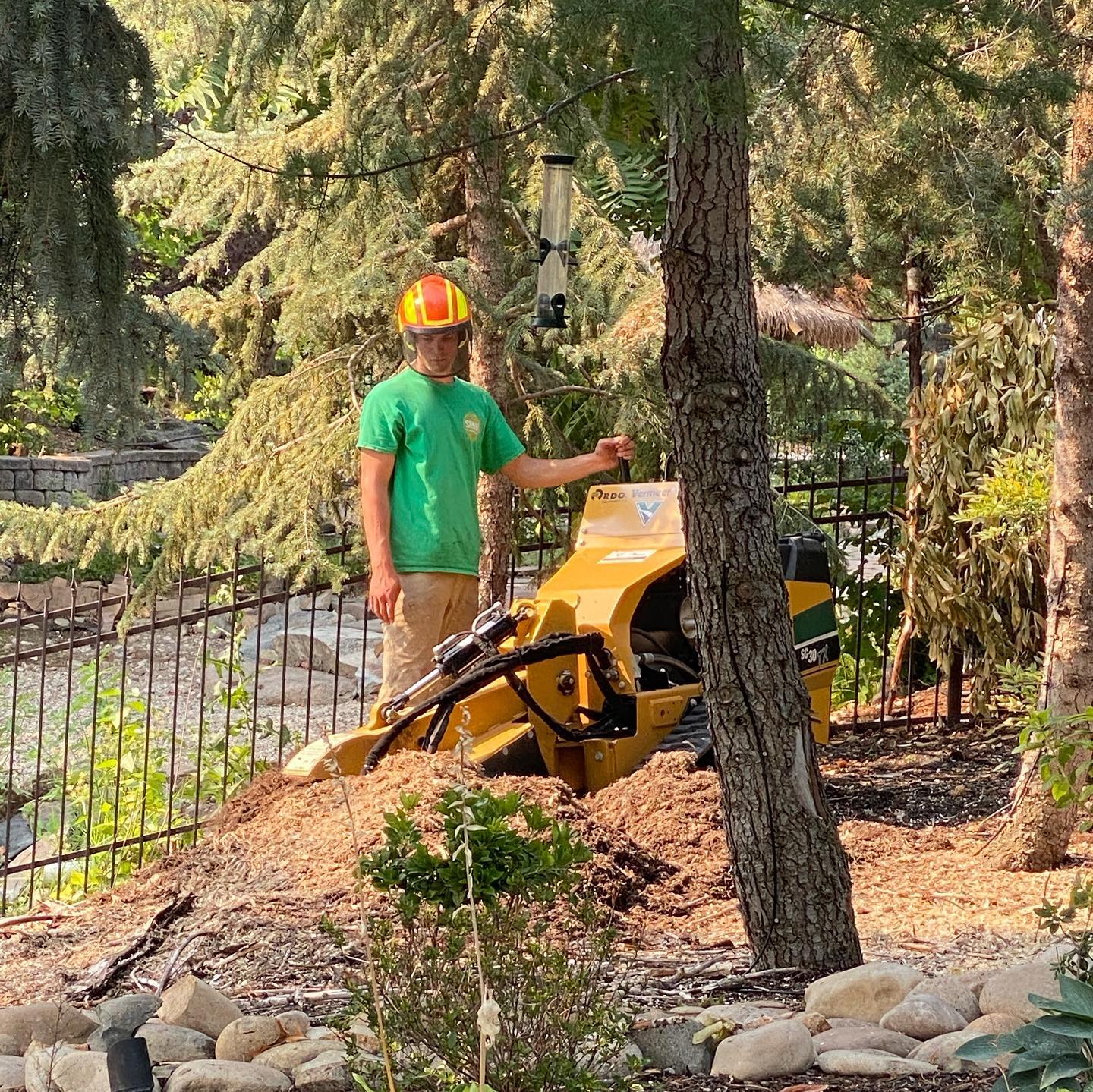 Grinding stumps of all sizes and chasing roots so you can use the space immediately, is our specialty!
~ Jack Walker
1. Get A Quote
Jack comes out to look at access, measure stump, terrain, etc. Boots on the ground ensures the best rate! Schedule a site visit today to discuss the scope of work & receive your free, no obligation estimate!
2. Get Locates
Upon site visit, if we determine that there may be utilities near the stump site we will call 811 and schedule a free utility locate. We are notified once locates are finished (2-3 days) & come grind your stumps.
3. Grind Stumps
We remove the stumps by grinding them & backfill the hole using the mulch byproduct. We can haul away mulch for added cost but most homeowners covet the amazing mulch stump shavings make.
A Little Site Prep
We ask that the site is free of any debris, pavers, large rocks, planters, etc. We use screens and platforms to prevent damage to buildings and land and ask that lawn is not watered the day of service. It is also always appreciated when any animal droppings are removed prior to the work day.
FAMILY-OWNED FOR GENERATIONS
Stump Removal Northwest serves Boise ID, Treasure Valley & beyond. SRNW is family owned and operated by Jack, Dani & Trent Walker, with 25+ yrs arboriculture experience. Jack is an arborist, retired tree climber, 5th generation logger and Trent is an expert heavy equipment operator, drone and helicopter pilot. They make quite the duo.
Jack and Trent perform all stump grinding, land clearing and brush mulching services. Jack Walker, has been grinding stumps, removing trees and clearing lots since 1998 with professional tree stump removal equipment that fits through 36″ gates & grind everything below ground surface so you can plant another tree, seed grass or start building the same day we remove stumps. WIth our commercials stump grinders we can grind any stump anywhere.
Timely, flexible friendly and professional, completed the job outstanding work
HIghly recommend! Jack worked with me to get the best possible result for my situation. He removed a stump with significant roots that was between a fence and a patio with no problem. His skills and his equipment are amazing! Trent quickly removed 2 large bushes, cut them, and cleaned up to make it easy for me. They were both really positive and professional.
Daniel Thomson
2021-08-13
All of the positive reviews of this company have proven accurate. Jack and Trent were incredible to work with, straightforward in their approach and pricing, and did a first-class job. Couldn't be more pleased, and I'll be recommending them to whoever I can. Thanks, guys!
Jorge Granados
2021-05-31
It's was pleasure meeting Jack, his customer service and work ethic are one of a kind. Before I called Jack, I tried renting a stump removal machine from a local place and it was a zero success, machine lasted only 40 minutes and died on me. My lack of experience and the machine failure resulted on a very stressful day and sense of failure as an ok DIY handy man. Jack made it look extremely easy, he has a top of the line equipment and overall he is a great people's person. When it comes to stump removal, please save time and money by hiring Jack.
Jack got us on his schedule quickly, he was there when he said he would be and he took great care with our stump removal. Excellent experience, very professional company and we love supporting family-owned small businesses! Highly recommend.
Miranda Cotten
2021-04-24
Wow, I don't think I can leave a review that expresses the amazing quality and service this company offers. From the first call to the finishing touches Jack and Trent were outstanding. We didn't have to wait weeks to months before getting on the schedule, price was more than reasonable, and the customer service was something you just don't see anymore. You can see from the pictures, one of my trees had grown over my patio but that was not a problem for Jack and Trent. If you need you're stump(s) removed then don't waste your time calling anyone else.
Megan Wong Dock
2021-04-16
Jack did a great job removing stumps for my upcoming project. He was quick, knowledgable and I would use him again!
PHENOMENAL job and exceptional customer service!!! You will not regret hiring SRNW for your job. Jack and Trent were amazing and truly skilled in what they do. Very punctual and skilled and great communication leading up to the project. I cannot recommend them enough!! Thanks guys!!
Jack was actually across the street removing the stump in my neighbor's front yard, and I thought I'd see if he'd remove the small stump in my back yard since he was already there. He was more than happy to help me and was very fair with the pricing. He's a down-to-earth guy and was easy to work with. He seems to have a heart for customer service and making his customers happy. I would recommend using him!
We were in a pinch and needed the roots ground before the concrete was poured, Jack came right away and ground the patio area the same day!!! Look if you are looking for a stump or roots to be removed this is the company to call! Wife wants to plant another tree just to get SRNW back. Smiles and communication were a must here, James talked us thru everything and asked first before he did anything. Thanks SRNR for the great job!
Pro Stump Removal Boise ID
Stump Removal Northwest has the proper equipment, insurances, bonds, experience and we call in locates before grinding your tree stumps. With 25 years' experience, our tree stump removal and land clearing services are fast, reliable and effective.
Fortunately, over the past 25 years Jack Walker has yet to meet a stump he couldn't grind! SRNW is family owned by Jack, Dani & Trent Walker. We have several stump grinders which offer a quick and effective method of removing stumps well below ground level in hard-to-reach areas & multiple concentrations. No matter the size or location we can grind them all & we offer hefty discounts for multiple stumps. We bid each project by scope of work, land layout, number of stumps, access, etc. so it is best to give Jack a call and he will give you free stump removal quote.
Count on us to quickly and safely restore your landscape.
SRNW Stump Grinders: 70hp & 30hp Vermeer