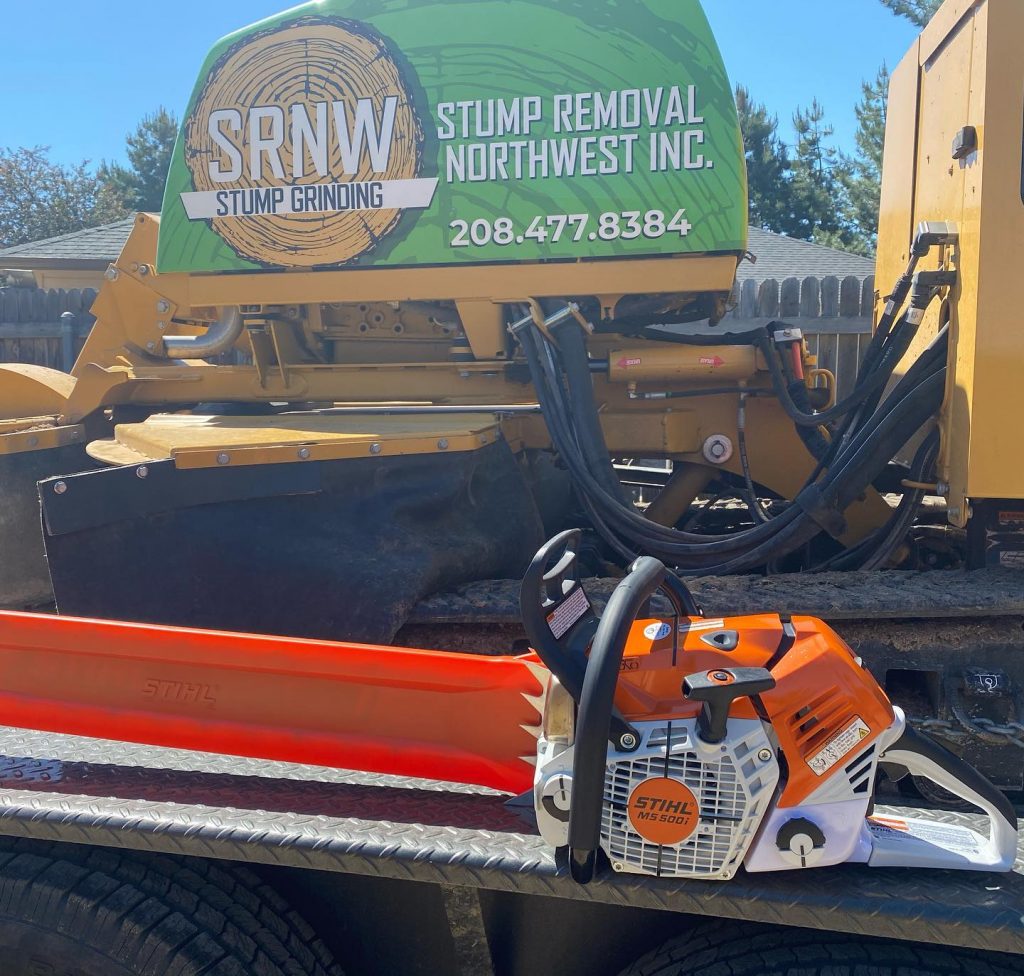 We are excited to announce our Nampa stump grinding services. SRNW has been clearing lots and grinding stumps in Canyon, Valley, Gem, Payette, Ada counties and beyond since 1998! After so many requests to come further North we've also expanded our forestry mulching service & site prep service area to include Valley & Boise Counties as well! Cascade Idaho is one of our favorite places to visit and we always love to go stump grinding in Garden Valley and then go soak in the hot spring!
Nampa ID Stump Grinding Services
The benefit to hiring Stump Removal Northwest is that stump grinding is our specialty! Local owner, operator and arborist, Jack Walker has 25+ years of experience and when you call, he answers. Jack gives free estimates and grinds the stumps. We think that one person taking care of everything from start to finish is always a plus! No confusion in dealing with multiple people and possible frustration.
Stump Removal Northwest Inc.
Always Free Estimates
Licensed, Bonded, Insured In Idaho & Oregon
Quick Response
Locally Owned & Operated
We schedule all utility locates
Senior Discounts
Satisfaction Guaranteed
60+ 5 Star Reviews
Should something get missed, every customer gets 1 free callback!
We have the professional equipment and experience to completely grind stumps up to 15″ below surface, chase roots and access hard to reach places where others can't. We are fully licensed, insured and bonded for your protection. Other services include mastication, brush clearing, site prep, small demolition, skid steer dirt work. More about the cost to grind stumps
Need a professional arborist with 20+ years of experience to take care of your stump grinding in Nampa or beyond?
Call Jack for free estimates 208-477-8384
Jack prides himself on quick response and professional service. Trust your local stump grinding specialists at Stump Removal Northwest to expertly remove stumps, roots and restore your landscape. We serve all of Boise Idaho, Treasure Valley and beyond.
Stump grinding and removal using stump grinders is the best stump removal option. Grinding stumps with professional stump grinders turns the stump into valuable mulch which homeowners covet. Grinding is also the least disruptive to surrounding landscapes and as long as the operator knows what they are doing it ensures complete removal. We look forward to improving Treasure Valley landscapes for years to come.
SRNW is family-owned and operated since 1998 by Jack, Dani & Trent Walker, with 25+ yrs land clearing & stump removal experience. Serving Ada, Canyon, Gem, Boise, Valley & Elmore Counties.
Father/Son Owned & Operated
Professional & Courteous Service
Grinding up to 12-15″ Below Ground Surface
30hp & 70 hp Commercial Stump Grinders
ID RCE55564, OR 223548 Licensed, Bonded, Insured
We Schedule All Utility Locates Free Of Charge
60+ 5 Star Reviews
Complete Tree Stump Removal Guarantee