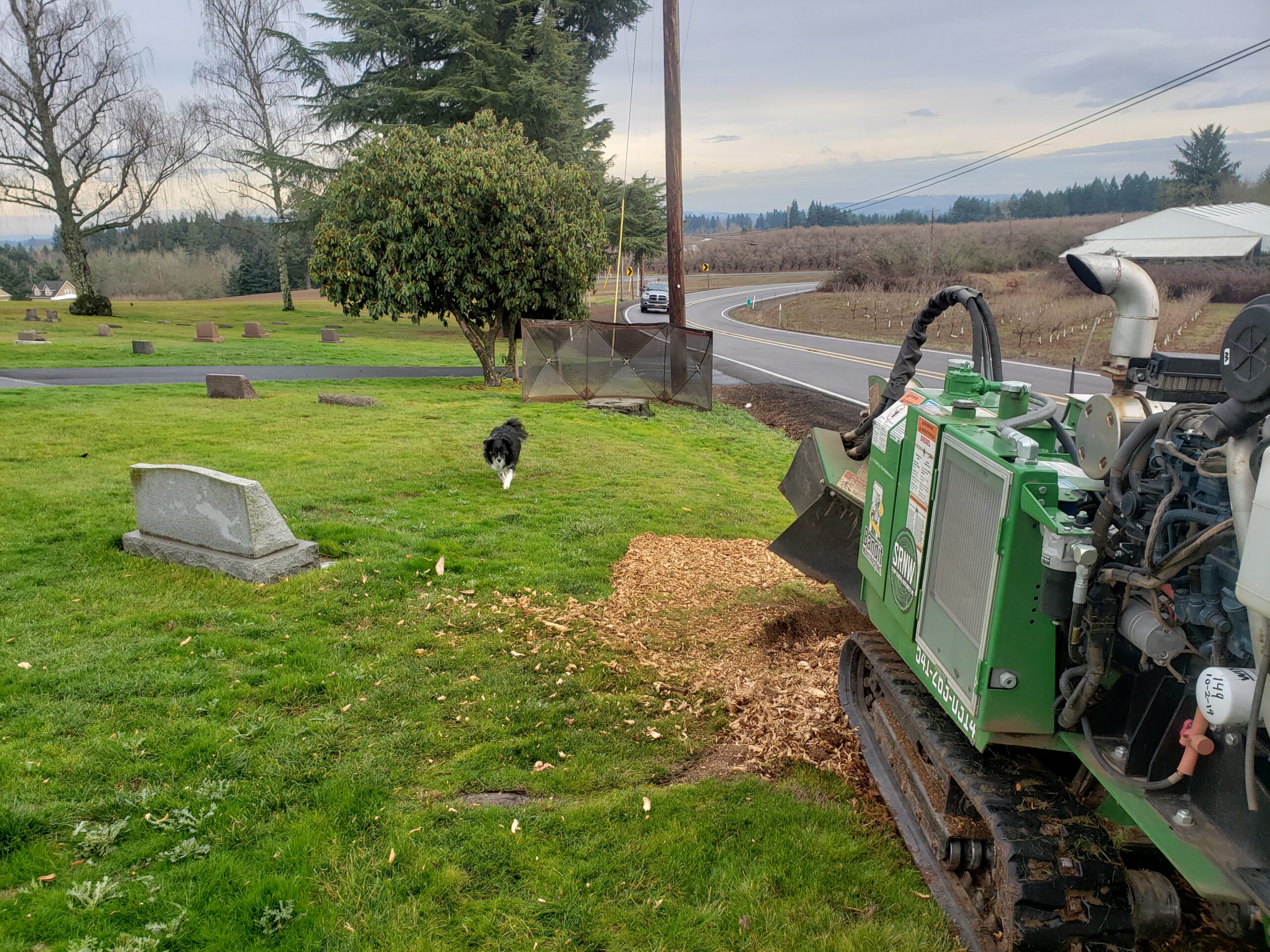 Jack at Stump Removal Northwest Inc has been grinding a lot of tree stumps in Beaverton OR. As the weather improves and builders, landscapers, homeowners are preparing for projects, it's the perfect time to get rid of those pesky stumps. If you are looking for stump grinding in Beaverton, give Jack a call and get a free estimate.
Call for free estimates 503-828-2932
We just finished a large project for a cemetery in Beaverton. Grinding over 30 stumps to improve landscape, road access and improve lawn maintenance. Our project manager (our dog Robin) had a wonderful time supervising our Beaverton stump grinding!
Beaverton Stump Removal Service
After removing a tree many people leave the stump until they have to try and mow around it or realize what an nuisance it can be. That's when they call us for a free stump grinding estimate! We prefer to visit the site so we are familiar with access, terrain, can properly measure stump and see if we need to call in locates. Coming to see the project also ensures our best rates.
Last week we ground tree stumps in Beaverton for a homeowner who had 3 other companies come to give bids but because of their location, they could not get their grinders to the stumps. We can and did. We have a very small portable stump grinder which allows us to grind stumps in planter boxes, along fences, on hillsides, in terraces etc. along with large stump grinders that still fit through a 36″ gate!
No matter what the tree stump size or location we can remove it with the help of our specialized equipment. We grind up to 15″ below the grade, get all utility locates, and chase all roots to ensure complete stump removal.
Free estimates
Grind 12 -15″ below ground surface
Advanced equipment to grind stumps & roots anywhere
OR & WA Licensed, Bonded, Insured
We schedule all utility locates
Professional & courteous with high work ethics
Beaverton Stump Grinding
With 20+ years of experience and all the professional stump grinders to remove stumps of every size in any location, Jack can get your job done and done well. It's no problem for us to grind stumps on terraces, along fence lines, near buildings or even on the top floor of a high rise in a planter box. We grind anywhere.
Stump Removal Northwest Inc is a family owned, local stump grinding service since 1998. Jack Walker is the owner/operator so the same guy who bids the work, does the work and people love that!
Call or text for free estimates 503-828-2932
If you need stump grinding in Beaverton or anywhere in the Portland Metro & Vancouver WA areas, just give us a ring and Jack will come look at the scope of the work and give you a free estimate. Should we miss a root or anything is not satisfactory, we also offer 1 free call back to every client.
Remember, experience goes a long way and 20+ years of stump grinding counts. Stump Removal Grinding Boise Idaho, Treasure Valley, Nampa, Caldwell, Meridian, Star, Eagle, Weiser, Emmett Stump Grinding.