Dump Truck: You Call, We Haul.
Dump Truck Hauling Service
Our Hauling Service is custom to each client. If you have a farming, forest or construction project that needs to be done, SRNW can prep your property for any project. For moving, lifting, carrying and stacking we can bring our skid steer on site.
Our dump truck hauls up to 7yrds and we haul just about anything: Gravel, Dirt, Snow, Roofing Debris, Small Demolition, Wood, etc.
Serving: Ada, Canyon, Payette, Gem, Valley & Boise Counties
Put our dump truck to work for you! We can haul and dump up to 7 yards of material at a time. Get a free estimate!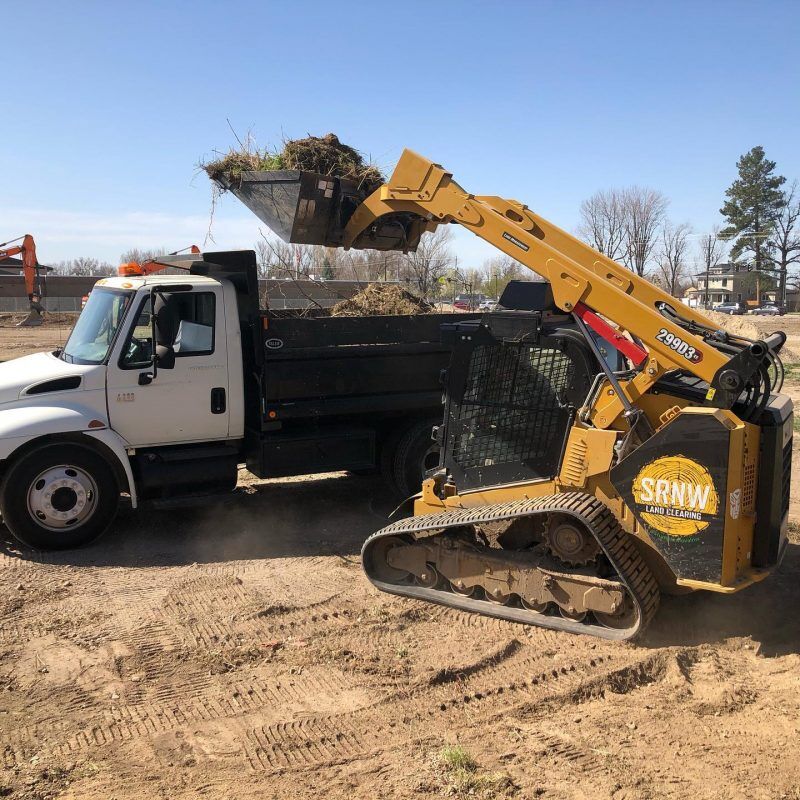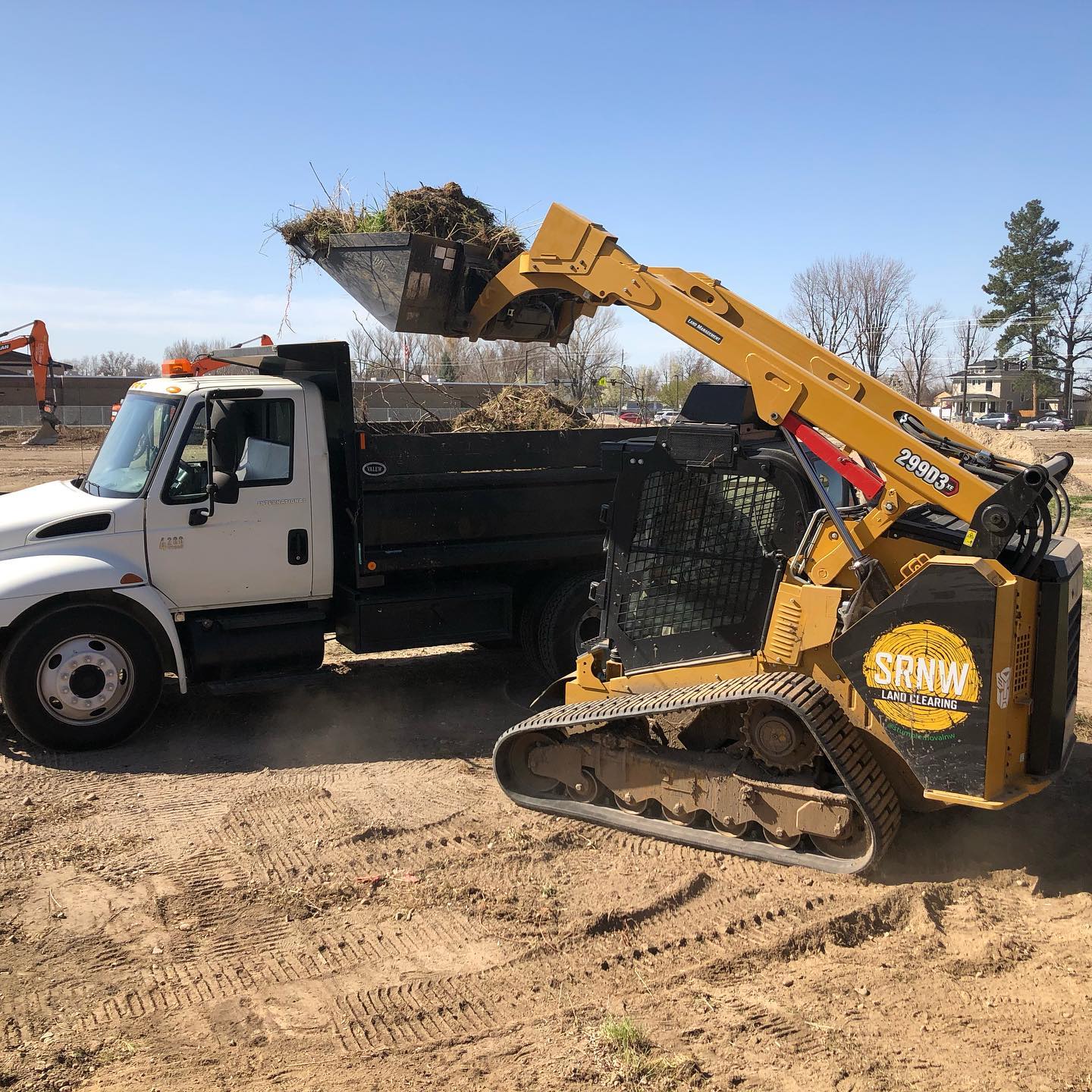 1. Get A Quote
Some jobs can be estimates over the phone but Jack or Trent can come look at access, scope of project etc. Boots on the ground ensures the best rate! Schedule a site visit today to discuss the scope of work & receive your free, no obligation estimate!
2. Get Booked
Upon estimate approval we schedule the dump truck and take payment on the day the job is completed. We have a one way fee of $1.80 per mile for any work 20+ miles away from Meridian ID (83646). Ask about our steep discounts for larger, multi-day gigs.
3. Get'r Done
We show up on time, deliver and/or provide debris removal as expected by licensed, bonded and insured service. We can assist in finding a new home for rock, dirt etc. *Material delivered and/or any disposal fees are not included in quote unless otherwise specified.
A Little Site Prep
Our truck is small but still needs 7' wide access to get the truck through any gates etc. We ask that access to the site is free of any debris, pavers, large rocks, planters, etc. It is also always appreciated when any animal droppings are removed prior to the work day.
SRNW: Father/Son Duo
SRNW serves Boise ID, Treasure Valley & beyond. SRNW is family owned and operated by Jack & Trent Walker, with 25+ yrs experience. Jack answers your call, comes to give you a free estimate and he and Trent perform all stump grinding, land clearing, demolition, hauling and small excavation services. Jack is an arborist, retired tree climber, 5th generation logger and Trent is an expert heavy equipment operator, drone and helicopter pilot.
Pro Equipment & Experience
SRNW has the proper equipment, insurances, bonds, and over 25 years experience. Our stump removal and land clearing services are fast, reliable and effective. Count on us to quickly and safely restore your landscape.
7 yrd Dump Truck
Stump Grinders: 70hp & 30hp Vermeer
110hp Skidsteer
Backhoe
Prinoth Masticator

STUMP REMOVAL NORTHWEST exceeded our expectations and hopes. Jack ground up a very large stump that an excavator got out of the ground but couldn't remove. We are super happy. We were saddled with this stump because we hired an excavator to remove it. He did get it out of the ground but he refused to take it away. We were frustrated and disappointed. I did an internet search and settled on 3 possible stump grinders. Two didn't even have a way to leave a message. STUMP REMOVAL NORTHWEST answered the phone and was articulate. We decided to give them a try. I sent them pictures with dimensions and they responded with a reasonable estimate. Jack – the owner operator – gave me confidence in his ability. And, he had an opening the next day. We jumped on it – fully of hope. Every possible expectation was exceeded. Jack restored our faith in humanity. If you need to get rid of a stump CALL STUMP REMOVAL NORTHWEST AND RELAX. By the way – he did such a good job I gave him a small tip along with full payment. Jack will do the job. 1st pic is before and second is with almost all converted to really nice mulch.

Very professional would highly recommend them Jack was very knowledgeable. And on time. We live here in Eagle Idaho and the price was very reasonable. Again the best.

Highly recommend Stump Removal NW for any tree removal or stump grinding in Eagle, ID. Professional and fast! They used a robotic stump grinder and made quick work of our cherry tree stump. In and out within 20 mins!

Bobbi Cornmesser
2022-05-26
Absolutely the best company you can use! Super fast, great price and they are extremely friendly! If you are looking for some one to use, this is a no brainer. Use Stump Removal Northwest!

Based on their many strong Google reviews for tree stump grinding, I contacted Jack to have a large stump removed. He was very responsive, even though it was on a weekend, and he quickly provided a quote and we agreed on a date/time for the removal. He and Trent arrived on time and were friendly and professional. They managed the process quickly and efficiently and I am very happy with their work. I wouldn't hesitate to recommend them to anyone looking for tree stump grinding and removal service, or lot clearing.

Jack and his son Trent did a terrific job. They were able to squeeze their machine into a tight space and were able to remove the stump and roots. They were punctual, personable, knowledgable and reasonably priced. We highly recommend them.

Edward Christianson
2022-05-18
Very impressed by the quality and overall care for the environment around the stumps being removed. We had one major issue which was a t-post in the center of a large willow stump that sat very close to a new fence. He worked with me to expose it down to a point where we could remove everything. So grateful for the extra effort and I will be a forever customer. Thanks again!

What an awesome and dependable company! Highly recommend using them in the future.

Jack did an amazing job and made quick work of a huge stump we had in our front yard. Super reasonable pricing and very responsive with communication. If you need a stump removed, I would check them out!

I've used SRNW twice to remove stumps big and small. Jack is very quick to return calls, communicate schedules and organize utility checks. The father/son duo quickly and thoroughly cleared out the stumps from my yard. Affordable stump removal service and very easy to work with compared to other companies I got quotes from. Highly recommended!!